WWI was lasting longer than anyone expected and King George V had no suitable way to reward services to the war effort by civilians at home and servicemen in support positions. The answer was to create the Order of the British Empire, originally with only one level, but then divided into Civil and Military in 1918.
Eventually the OBE evolved into a system of rewards with five levels. The first two (Knight Grand Cross Order of the British Empire and Knight of the Order of the British Empire) confer knighthood, the three lower levels are Commander [top left], Officer [top right] and Member [bottom left]. The order was created mainly to award non-combatant services to the war and included women, whom most orders excluded. It was conferred for services to the Empire at home, in India and in the Dominions and colonies, and at any level could be awarded for gallantry as well as for service.
The medals of the order were changed considerably in 1937 when the insignia was redesigned and the colour of the ribbons were changed. The Commander has a blue enamelled cross, the Officer has a gold cross and the Member has a silver cross. After January 1958, gallantry awards were recognized with silver oak leaves.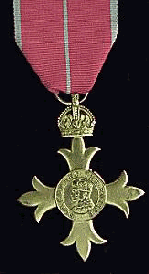 See separate entry for the British Empire Medal which is not strictly a part of the Order.