MURRAGULDRIE VETERANS RETREAT

eMail: vvsouthwestnsw@gmail.com

Visitor Contact: Bob May (02) 6931 2634 or 0417 490 127
Retreat Manager: Les White (02) 6922 6097 or 0428 226 097


Location

The retreat is located in the Murraguldrie State Forest area. The signposted entry is 7km east of the Hume Highway on the Wagga-Tumbarumba Road and the retreat itself is 100m off the main road.

Parking

A grove of trees adjacent to the shelter shed provides shade for campers and caravans can be parked throughout the scattered groups of pines.

Shelter Shed

The shelter shed contains a bench and sink in the kitchen area with tables and chairs.

Lighting

The shelter shed and toilet block are lighted but to operate them you will need to connect a 1KVA generator into the power socket located on the west side of the storage container.

Hot Water

Toilets and showers have a hot water 'donkey' system which operates on twigs and small pieces of wood which can be gathered on-site. It takes about 15 minutes for the water to heat up. The water supply operates on rainwater, so please be sparing with it.
Cooking & Heating
There are fire rings for cooking and there is a wood heater in the shelter shed for use in the cooler months; some wood is available, but again please use it sparingly as the wood has to be cut and transported in.
Availability
The retreat is available to veterans and their families and provides good bush camping with basic facilities for both caravans and tents. There is TV and mobile reception at the site.
Rubbish
We operate on a 'bring it in - take it out" policy, so please clean up the kitchen area and take any rubbish with you as there is no garbage collection facility.
Donation
We ask for a donation towards the operation of the retreat. A donation box and envelopes are on site.

Please enjoy the peace and tranquillity of our bush retreat - take only pictures, leave only footprints.
Directions to the Murraguldrie Retreat located 8KM east of the Hume Highway on the Wagga-Tumbarumba Road
This retreat is run by the Vietnam Veterans' South West NSW & Wagga Sub-Branch of the NSW VVAA
<![if !vml]>
<![endif]>
SOUTH BOUND ON THE HUME HIGHWAY
<![if !vml]>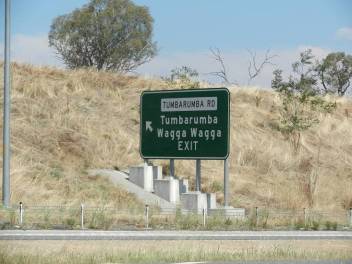 <![endif]><![if !vml]>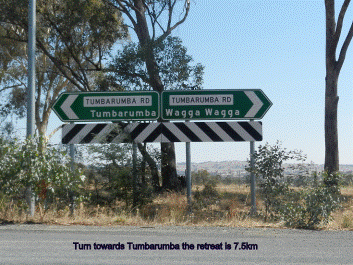 <![endif]>
NORTH BOUND ON THE HUME HIGHWAY
<![if !vml]>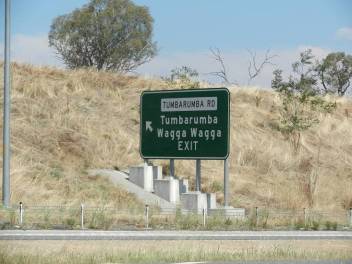 <![endif]><![if !vml]>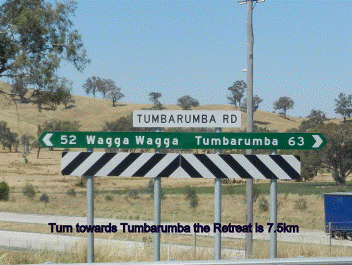 <![endif]>
COMING FROM WAGGA AND CROSSING THE HUME HIGHWAY
<![if !vml]>
<![endif]>
THE TURNING TO THE RETREAT COMING FROM THE HUME HIGHWAY
<![if !vml]>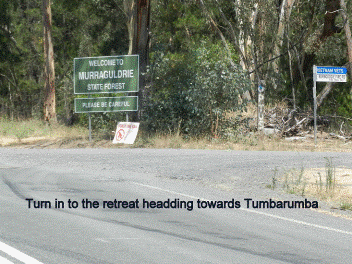 <![endif]>
<![if !vml]>
<![endif]><![if !vml]>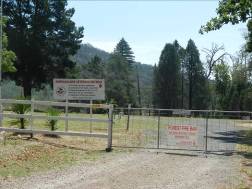 <![endif]>
RETREAT CONTACTS Bob 0429592135 Les 0428226097